So the FRSL has almost completed the opening month of it's Season, so let us take a look at some of the big stories so far.
Out of the East
The Detroit Pistons
At 10-2 the Detroit Pistons have shocked the FRSL world. The 3 main reasons for their successe are: Russell Westbrook, Westbrook is off to an MVP like season averaging 23/6ast/6rebs/2.5 steals. #2 would be the surprise play of Danilo Gallinari. Averaging 20 points and 6 rebounds, but that isn't the best part. Danilo is shooting a rediculous 55% from 3 and 47% from the field. The third reason is a simple one, they have played 9 out of 12 games at home, will the Pistons be able to keep this up on the road? or will they fall flat on their face like the next team.......
And that team is the sad
New York Knicks
At 4-12 the Knicks are falling apart. What is causing this team to struggle? Is it D-Will? I doubt it, he is playing decent enough ball. Although he is averaging 3+ turnocers per game. Could it be that K-Love missed 5 games? I'm sure Knicks fans hope so, when he is healthy he is a beast. Putting up 22 points 13 rebounds, but only putting up 41% from the field and 34% from these numbers need to improve. Or is it having Tony Allen in the starting 5? The only thing Allen can do effectively is force steals, offensive Allen could be hurting the Knicks even more. But having Brendan Haywood as a starting C just isn't going to cut it. He isn't rebounding well, he doesn't give you ANY offense and he is only producing 2+ blocks per game. Are those 2 blocks a game worth it? Knicks GM Gary seems to think so, but Knicks fan don't and they are calling for a new GM in New York.
Out of the West
Memphis Grizzlies
At 12-4 and having played 10 out of 16 on the road the Grizz look to be a heavy favourite to win it all this year. A huge reason is LBJ. In previous years LeBron seemed to have given up, but a fresh start on a new team and LBJ is living up to his expectations. MVP seems like a formality a this point, putting up 32/7+rebs/5+ast/and 3+steals while shooting 56% from the field LeBron has activated beast mode. His supporting cast isn't to shabby either. Kris Humphries is amoung the leagues best when it come to crashing the boards, Ilyasova is hitting 40% from beyond the arc, Al Jefferson is playing like Al Jefferson getting double doubles almost every night. Don't forget about Steve Nash, at 38 years young Nash is playing like an elite PG and if he can cut down on the turnovers this team may be the team to beat.
T-Wolves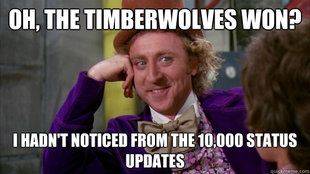 Well actually.........they haven't even won a game yet. At 0-12 the wolves are in for a very long year. But wait, there is a bright side here. With an very young team and big time prospects in Drummond and Beal the Wolves are a team for the future. If this draft class can create some gems the Wolves could be a team that starts out 12-0 in the near future.
Some side stories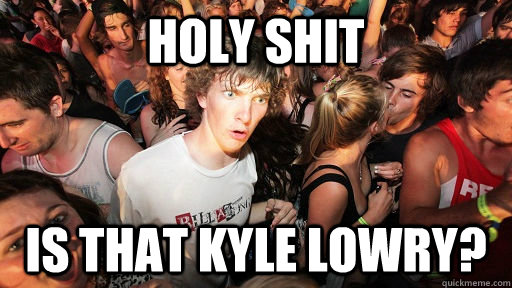 Goulette and his man crush on Kyle Lowry. Goulette made many predictions saying Lowry is an MVP type player, so far that's a simple NO. But Lowry and the Thunder are playing great ball. They are good enough for 2nd overal in the West while playing more road games than home games. There isn't that one stud player getting it done, but a collective team effort with no major weakness. Do the Thunder have what it takes to shut down the Grizz? This is a great Defensive team holding teams to just 40% shooting, only time will tell if they can contain LBJ
The Indiana Pacers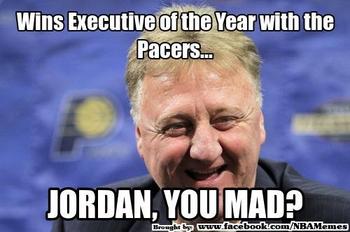 The Pacers front court may be the most dominate front court the FRSL will ever see. The Bynum/Howard combo is averaging 36 points/25rebs/6 blocks. But outside of these two the Pacers are lacking at the wings. Will Indiana split up their towers and go for a wing player? or will they try and ride the Howard/Bynum tandem and see how far they get them in the playoffs? Big choices for Drizzy to come.