Discussion Starter
•
#1
•
as we're walking the concourse back to seats 1 and 2 (of our 4 seats we could've had)..we walk by the ticket helpers area..and I notice this tall handsome skinny guy.
I go "holy ****! thats Bobby Gross!!!"
so I say to howie "holy ****! Thats Bobby Gross!! I'm gonna go back and ask him for a picture!"
so I go back to him, and say "I know this is a little odd, but can I take a picture of you?" I then get Howie to go over and get in the picture. At first, I think Bobby Gross might've been "how the hell do you know who I am??" and then I think he thought I was asking him to take a picture of myself and Howie!
So I say "no, Howie, get over there" and badda bing...here's the proof!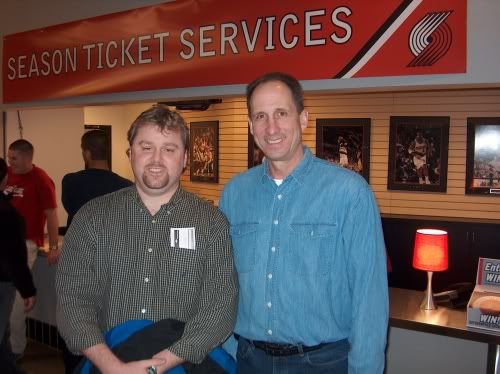 It was so sweet meeting (well, taking a picture of) Bobby Gross! That was the highlight of the night, imho. I should've shook his hand, and thanked him. I did tell him that his wife (who he was talking to) is my dads season ticket liason and that he was my dads favorite player on the title team.
Kudos to Bobby Gross for being so cordial.