Discussion Starter
•
#1
•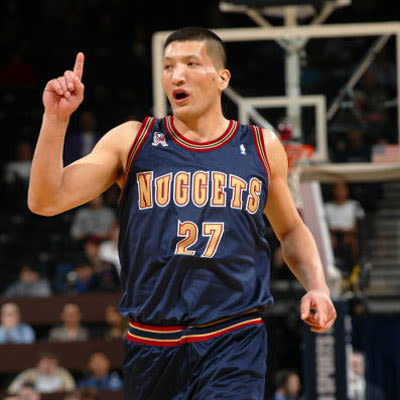 Mengke Bateer, the Monglian Eagle, announced his retirement at the age of 40.
Let's turn the time machine back for a while, say, 15 years ago. When China's men's basketball team played at Sydney Olympics, their fans were dreaming about the team's seemingly immeasurable prospect. They had solid reason to do so: the so-called the "Walking Great Wall", comprising 3 of their most talented 7-foot big men, were all under 25.
Yao Ming, the youngest and most promising one, was yet to celebrate his 20th birthday and there seemed to be no doubt that he would one day make it to the NBA. He was already a monster in Chinese league CBA, giving lessons to guys much older than him every night.
Wang Zhizhi, the 22-year-old league MVP, was believed to have mastered better footwork and shooting skills than Yao. He had made his name internationally known when he gave David Robinson a solid block back in Atalanta 1996. Wang was drafted by Dallas Mavericks in 1999 but due to his duty for the Army, his debut in the NBA would be delayed until 2001.
Bateer, 24, the eldest and most experienced of the three, lacked speed and agility on the court but was as solid as a wall. Both of his Mongolian name and demeanor was easily remembered by most Chinese fans. There were slight rumors that Bateer may receive an offer from some NBA teams too.
Whether make it to the NBA or not, the trio of the "Walking Great Wall" was well expected to have a successful career in collectively representing China for the subsequent decade. Not even the most pessimistic fans would dare to predict that the Sydney Games would be the last time that the trio played together. But that's how it turned out to be: Wang was expelled from the national team from 2002 to 2006 while Bateer no longer received calls from the team since 2004. They never fulfilled the great potential of playing at their peak, say, in 2004 or 2006, to propel the national team to a higher level. This should be listed in the top 10 "what ifs" of international basketball.
Although having some transcendent years in the NBA, Yao's career was plagued by injuries caused by accumulated fatigue. I could not stop thinking that had Bateer or Wang played a bigger part in the national team, Yao's risk of being overly used might be reduced significantly (The same thing of the domino effect of Len Bias's death on the broken down of Larry Bird and Kevin McHale).
I have a tons of ways to describe Bateer: He was the first undrafted Asian to play in the NBA. He was the first Chinese to start in a NBA (regular season!) game and to win a Championship ring. More importantly, he is a magician on the court and could have achieved greater as a basketball player.
People in the USA remembered him more of his power and strength than his subtle skills and basketball IQ. He was mocked by taking a free-ride of the Spurs' Championship campaign in 2003 (not playing a single minute in the playoffs). Yes, I tend to agree with the arguments that he mainly served as a simulated O'Neal in training. But isn't that something crucial for any teams that wanted to beat the migthy Lakers at that time? After returning to CBA in 2005, Bateer managed to improve his game by serving more of a "point-center" role and showed great endurance. His existence was the main reason that Xinjiang could consecutively compete in the finals.
Bateer represented China's national team as early as in 1993. Suffering severe homesick, he once attempted to sneak back home and was punished by the national team. It was also rumored that his lack of attitude towards training irritated Yao in 2004 Athens Game and that's why he was permanently "banned" from the national team.
More than a decade later, when there is no Yao, no Wang, and no Bateer, Chinese fans finally started to realize how lucky they were to witness the trio fight during that summer in Sydney.
The morning sun never lasts a day.
Original Link:
https://chenonwriting.wordpress.com/2015/08/12/the-fading-great-wall/