Sir Patchwork said:

Yeah. You think Tayshaun Prince has long arms at 6'9 with a 7'3 wingspan? North Carolina has a kid coming in next season named Brandan Wright who is a 6'10 power forward with an 8'0 wingspan. That kind of wingspan makes Kevin Garnett look like Kevin Willis.
I think an eight foot wingspan is probably something of an exaggeration.
Here's a picture of Wright, fairly extended: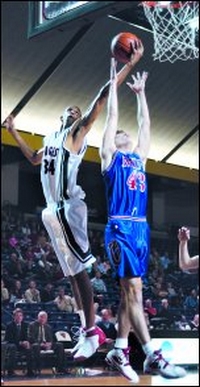 He has a nice wingspan, but it doesn't look super-freakish, like 8' would be. Maybe just a little freakish.